Two Years of N&M Iberia: "We have filled a gap with our services"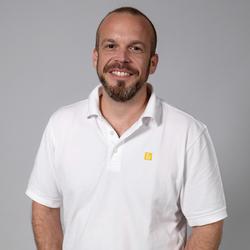 "We were faced with new challenges on a daily basis," says Tobias Nitsch, looking back on the early days of Neumann & Müller Iberia. It has now been two years that he started off as Managing Director along with three employees in a co-working space. The agreement with Fira de Barcelona had just been signed, making the team one of two service partners to offer Rigging services to trade fair clients in the Catalonian metropolis. Equipment, process workflows, staff recruiting – soon the basic requirements were in place that would enable N&M to deliver reliable implementation of its clients' trade fair presences. In March 2022, Nitsch and his team moved into their new offices, thus realising the stated goal of establishing their own base near the exhibition site itself. Today a staff of ten works at the office, with a further 25 in the halls served by the team.
In addition to technical support for safety-related services in connection with Suspension and Rigging, N&M also offers more wide-ranging services to exhibitors and their service providers – agencies and booth construction companies – at Fira de Barcelona. These include the full range of technical equipment for booths and related events. In their contact with those clients with whom N&M already works in Germany for example, Nitsch's team has been able to successfully put the case for the benefits of working with a familiar partner. Reporting on the feedback from these meetings, Nitsch says: "They can be sure of receiving the same kind of service they know from us in Germany, and that represents tremendous added value to our clients." They are already very familiar with N&M's expertise in planning and equipment deployment and appreciate the straightforward coordination before the event. They also report that collaboration with a tried-and-trusted provider and its network quickly makes itself apparent in terms of time and money saved.
Having a store of equipment on site in Barcelona not only helps exhibitors achieve their sustainability goals but also enables a fast response to urgent technical requirements, thus contributing to increased client satisfaction. A further factor in the N&M team's success in Barcelona is having technicians on site who are familiar with the exhibition centre's infrastructure and use their know-how to maintain a constantly high level of quality. Summing up the team's success, Tobias Nitsch says: "Thanks to our wide-ranging services, we have managed to fill a gap and ensure that our clients receive top quality when exhibiting abroad."